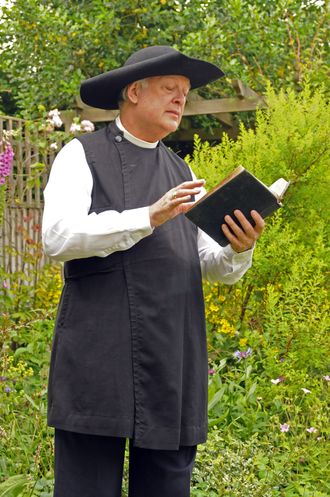 Tony's parents took him to see "The Mikado" at Streatham Hill when he was a small boy. It made a big impression on him and he's been a G & S fan ever since. But it was only after joining a local Gilbert and Sullivan Group that he had a chance to actually perform it. 
It turns out that all those years of singing over rock bands with inadequate P.A., and folk clubs and concerts with none at all, meant that he has a strong voice when needed. You'll notice that, in the "Mikado" clip above, he's not using a microphone and yet still making myself heard over an orchestra and chorus. As he says, "I'm not going to let an orchestra beat me!" 
He is lucky to have a good friend, Kate Flowers as a teacher, and it is difficult to overestimate how much help she has been. The voice, as an instrument, is essentially the same whether singing opera or jazz, but some of the techniques are different, and he says he could not have managed without her help and experience.  
A cousin of his, John Camburn, was also a baritone and recorded The Mikado, Pinafore, Iolanthe, Yeomen of the Guard and The Gondoliers with the Michael Sammes Singers. In fact he worked a great deal with Mike Sammes, and appeared on radio and undertook other work in his own right.  The "Who's Who in Music" for 1962 has the following entry:  
CAMBURN, John Joseph, L.R A M. b: Gravesend. Kent 1925. e: Ilford County High Sch., Roy. Acad. of Music. m: Marion Elizabeth Gibbs. s: 2. d: i. prof,: Singer; Conductor; Teacher; Adjudicator, m.a.: Conductor, Intimate Opera (Eltham) 1953-60; Instructor, Toynbee Hall (Singing;) 1952-58; Stepney Inst. 1958-60; Gentleman of The Choir, Queen's Chapel of The Savoy.  
Perhaps there is something in the genes!
Past Performances
 2nd-5th November 2016 - Trial by Jury - Castle Theatre Studio, Wellingborough - Usher 
 8th-11th June 2016 - H.M.S. Pinafore - Castle Theatre Studio, Wellingborough - Chorus 
14th-16th May 2015 - Ruddigore - Masque Theatre, Barton Seagrave - Sir Roderic Murgatroyd 
14th-17th May 2014 - Patience - Masque Theatre, Barton Seagrave - Chorus (A Heavy Dragoon (retd.)) 
16th-18th May 2013- Princess Ida - Masque Theatre, Barton Seagrave - Arac 
10th -19th May 2012 - Pirates of Penzance - The Masque Theatre, Barton Seagrave - Sergeant of Police 
5th-7th May 2011 - The Mikado - The Castle Theatre, Wellingborough - The Mikado 
14th-22nd April 2010 - Yeomen of The Guard - The Castle Theatre, Wellingborough - 2nd Yeoman 
10th October 2009 - The Sorcerer - Rothwell - Dr. Daley 
16th-19th September 2009 - The Sorcerer - The Castle Theatre, Wellingborough - Dr. Daley 
19th-24th January 2009 - The Sorcerer - Royal Theatre, Derngate, Northampton - Dr. Daley 
12th September 2008 - Soave sil Vento (Cosi Fan Tutti), Time was When Love and I were Well Acquainted (The Sorcerer), Der Vogelfanger Bin Ich Ja (Magic Flute) - Abington Avenue United Reform Church Northampton -Concert in Aid of Musclar Dystrophy 
10th August 2008 - The Foresters - Buxton Festival - Chorus 
10th August 2008 - Contrabandista (Concert Performance) - Buxton Festival - Sancho 
The Gondoliers (Concert Performance) - Abington Avenue United Reform Church Northampton - Chorus 
21st-26th January 2008 - The Mikado - Royal Theatre, Derngate, Northampton - The Mikado 
12th August 2007 - Haddon Hall (Concert Performance) - Buxton Festival - Chorus 
26th-31st March 2007 - Yeomen of the Guard - Royal Theatre, Derngate, Northampton - Chorus 
13th August 2006 - Merrie England (Concert Performance) - Buxton Festival - Chorus